By Ron Bernthal
Italy is showing enthusiasm for a leisure and business travel revival as Covid-19 has relaxed its grip on the country.  Seventy-three hotels, totalling 11,391 rooms, are expected to open during the 2020-2022 period. 
For the remainder of 2020, there are 22 openings scheduled, with 3,071 rooms, and five of these properties are already  in the pre-opening phase as of September, 2020. 
In 2021, 14 new hotels will open their doors in Italy, with another 13 properties launching in 2022, and 24 hotel projects scheduled for 2023.  Of Italy's 73 new  properties, all will be listed as either four-star or five-star venues.
Hilton Hotels & Resorts is scheduled to open three new properties in Italy, including the 133-room D
oubleTree by Hilton Rome Monti, set to open in December, 2020. The Monti neighborhood, with its art galleries, cafes and cute shops offers a great location for visitors. The hotel is close to the Bank of Italy, Quirinal Palace and various ministries and embassies, and within walking distance of the Trevi Fountain, the Colosseum, and the Basilica di Santa Maria Maggiore.   
The 439-room Hilton Rome Eur La Lama has an expected opening date in late 2021.  Nicknamed 
'The Cloud' because of the unique fiberglass and silicone shape hung on a steel frame and suspended inside the building, the hotel  
will contain an auditorium for 1,800, conference and congress halls seating 6,000, restaurants, and an underground car park. The complex is designed with the latest energy-saving materials and uses renewable sources for heating and air conditioning.
The hotel brand citizenM has confirmed plans to expand into Italy with properties in both Rome and Milan.The company is partnering with the independent asset management company Antirion, which has purchased a detached building of architectural and cultural interest of about 75,000 square-feet in the center of Rome. 
The property is currently being used as office space, but will undergo a renovation project to convert it into a 160-room citizenM hotel. The Rome property will open in 2021 or 2022,
followed by a second hotel in Milan.
Radisson Blu, the upscale brand of the Radisson Hotel Group, will open a new property next to Rome's international airport.  The Radisson Blu Hotel, Rome Fiumicino International Airport, will be the fourth Radisson Blu to arrive in Italy, the new hotel will be part of a long-term plan to strengthen the brand's presence in the country. The hotel will be 
linked to the terminal and will 
feature 289 rooms, an all-day restaurant, lobby bar, gym and meeting and events space including a ballroom. The airport property is expected to open in 2024. 
It will join the Radisson Blu Hotel Milan, Radisson Blu Resort Hotel in Terme di Galzignano near Padua, and the Radisson Blu es. Hotel Rome.
"Rome Airport has transformed itself and recently took pole position in Europe in terms of customer service and experience," said  Elie Younes, Executive Vice President and Chief Development Officer, Radisson Hotel Group. "
"Italy is now a key focus market for our organic growth and will soon see a wider range of Radisson Hotel Group properties arriving in key cities and destinations. This is a journey that we're sure will excite all of our stakeholders."
Italy's largest airport, Rome Fiumicino (FCO), sits a little less than 20 miles from central Rome and guests staying at the new Radission Blu airport property can easily get into Rome's center for business or leisure activities using the train from the airport train station, a short walk from the hotel.
The Leonardo Express is a Trenitalia train connecting Fiumicino airport with the main train station in Rome, Termini. It takes roughly 32 minutes and leaves the airport every half-hour, or every 15 minutes during peak hours. It's non-stop service from the airport to Termini, with the first train leaving the airport at 6:38 a.m., and the last of the day at 11:38 p.m. Tickets cost €14 (about $16) each way.
Radisson Hotel Group also announces the opening of the fifth Radisson Collection Hotel in Cortina d'Ampezzo, in the heart of the Dolomites and a UNESCO World Heritage Site. The new partnership will include a repositioning of the existing Grand Hotel Savoia and Savoia Palace, which will become respectively a Radisson Collection Hotel and a Radisson property. The Grand Hotel Savoia Cortina d'Ampezzo, A Radisson Collection Hotel, will open in December, 2020.
This hotel will have 126 rooms, including 19 junior suites and 8 suites. The leisure and catering amenities include an exclusive restaurant, a lobby and Cigar Bar, as well as a wellness area and SPA. With about 6,500 square-feet dedicated to high-tech meetings and events, the property will be the largest conference area in Cortina.
Cortina d'Ampezzo has a thousand-year history and a long tradition as a year-round tourist destination  Cortina was the site of the 1956 Winter Olympics, and continues to be an important mountain destination, as it will host the World Ski Championship in 2021, and the Winter Olympics in 2026. It is also one of the largest ski areas in the world with 12 ski areas and over 745 miles of skiing terrain. 
In terms of hotel growth markets, Rome takes the lead with 16 new hotels and 3,278 rooms. Five properties will launch in both Milan and Venice, adding 568 and 498 rooms respectively, with Florence next with just four new properties on the horizon, but a with a larger total room count of 768.
In Ostuni, in the Puglia region of Italy, the deluxe, boutique property  Paragon 700 opened its doors in June, 2020, and features 11 luxurious rooms and suites, perfect for a romantic getaway or a luxury buyout for the ultimate socially distanced family vacation. The former Italian palace is complete with all the royal amenities, including lush, private gardens; cathedral ceilings; period frescoes; rare green space in the heart of the city; and an impeccable location that's just a five-minute walk to the city square.
A high-end restaurant and bar, tastings in Paragon 700's carefully curated wine cellar, private voyages by boat, and a spa that houses a Turkish bath and a Himalayan salt wall are just a few of the amenities found at this property. Guests who fall in love with the eclectic interior decorating items can actually purchase select furnishings for their own homes.  Any sold pieces will quickly be replaced by  by the owners, who have collected unusual artistic and colorful pieces from around the world.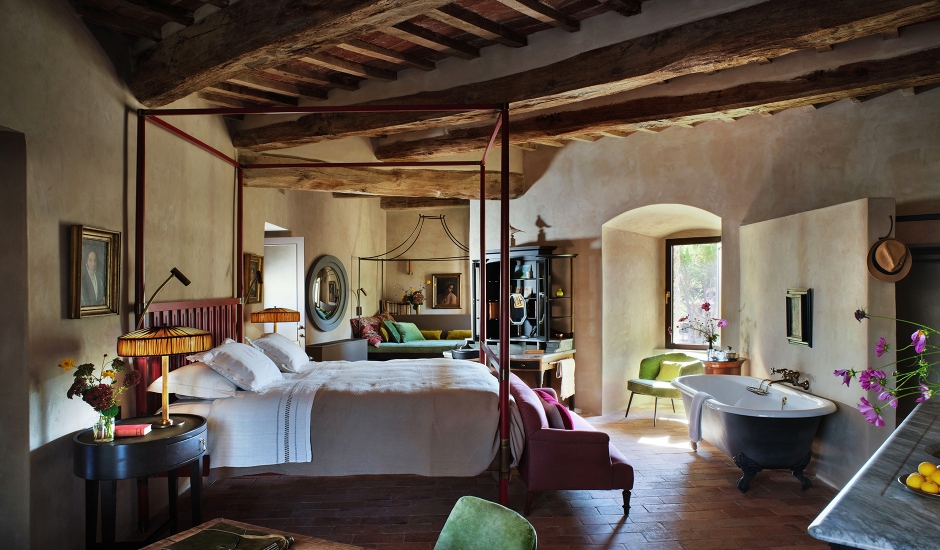 (Above)  
HOTEL CASTELLO DI RESCHIO, UMBRIA, ITALY (© Castello di Reschio) 
Another unique Italian hotel project is at a restored 11th-century castle in Lisciano Niccone, located between Umbria and Tuscany.  The renovated Castello di Reschio  has been coverted into a beautiful, 36-room bedroom hotel, surrounded by the classic Umbrian landscape of rolling hills and tall Cypress trees.
The 15  historic, stone farmhouses (15 others have not yet been restored) offer guests and small groups a different experience, including rooms with period furniture, artwork, custom-made mosaics, and fine linens. While other structures offer a private dining venues, swimming pool, fitness and spa, and onsite tennis court, guests can explore the 2,700-acre estate by car or horseback.
In Florence, The Student Hotel Florence Belfiore 
will open in 2022 with 670 rooms. 
Situated in Viale Belfiore, in the former Fiat headquarters, the TSH project will also include residential units, supermarket, retail stores and a 600-space parking lot.  A former apartment building will be fully renovated to create the brand's signature hybrid co-living/co-working community. The hotel's amenities will include rooftop garden, running track, swimming pool, outdoor gym and expected affordable rates.  
The Student Hotel in the Belfiore district, will have 30,000 square-feet of co-working office space,  the inhouse Commons restaurant, a supermarket and parking for 600 vehicles.  The hotel's large events space and roof garden will be accessible to all.  This extensive mixed-used development will accommodate additional third-party retail and food & beverage units, and hotel guests and locals will be able to work-out in a 50-meter (160-feet) lap pool and a gym.
The development will result in the complete revitalization of the site, a former Fiat factory and office, with the integration of more green public spaces also substantially improving the local environment. 
Florence has the third largest student population in Italy and a large international contingent following the 
27 international educational programmes held annually in the city. 
Florence is also getting a new luxury hotel with the March, 2021, opening of Il Tornabuoni. 
 The 62-room hotel on Via Tornabuoni is in the historic 13th-century Palazzo Minerbetti, one of the city's oldest palazzo residences.  The name comes from its first owner, Andrea Minerbetti, who in 1470 acquired a portion of the street, Via de' Tornabuoni for a series of construction projects.
The palace had already been in his family for a decade prior.
Between the 16th and 17th centuries, the house had a balcony on the corner of street 'Via del Parione' which was restored by sculptor and architect Girolamo Ticciati between 1737 and 1740. The balcony is still documented in some of the early 19th century engravings.
A rooftop restaurant overlooking Santa Maria Novella and the city's famous skyline, as well as a Champagne bar will attract guests and locals looking for something new and exciting in the neighborhood.