by Ron Bernthal
Rijnvliet
A neighborhood where every plant in the public space will be edible will soon be completed in the Dutch city of Utrecht. The "edible neighborhood" of almost four acres will be located in a new residential area of Utrecht called Rijnvliet, a development which itself has been an ongoing housing and landscape design project since 2010, and in the construction stage since 2017.
The edible neighborhood concept in Rijnvliet is quite different from any other ordinary suburban district in that it is composed of predominantly food-producing greenery. It consists of several layers of edible plants, trees and shrubs, and is an important habitat for insects and small animals. The forest, when completed, will be entirely integrated into the new residential area, which is a first for the Netherlands, and probably anywhere else in the world. It will thus be a place where children can play, and learn about nature from up-close.
It will provide a lot of space for recreation and education, with a neighborhood orchard and a soccer field, water play areas and an outdoor classroom at the primary school. The construction of the northern part of the neighborhood, which borders the primary school, is scheduled to start in early 2021.
The Dutch architectural firm De Zwarte Hond has been responsible for the urban design of Rijnvliet, and approximately half of the 1,100 proposed dwellings have already been completed. The landscaping design plan was developed by Felixx Landscape Architects & Planners.
Rijnvliet is one of the last sites to be developed in the Leidsche Rijn revitalization plan. Well integrated into its surroundings, the neighborhood connects seamlessly to the Strijkviertel lake and the Rijnvliet sportpark to the south, and to Rijksstraatweg and Voorn Park to the north. A large waterway, De Vliet, which connects Leidsche Rijn and Strijkviertel lake gives Rijnvliet a beautiful and distinct identity.
As is typical in many Dutch landscapes, both the waterways and green spaces branch out into wider networks, creating generous areas of interconnected green public spaces in Rijnvliet. This lovely combination of green spaces and waterways becomes quite unique when an attractive edible landscape is inserted into the mix.
The ecological properties of different types of plants, shrubs and trees are combined in a smart way to create a stable and resilient ecosystem. Besides providing an abundance of food, the "edible neighborhood" also provides different ecological services, such as a habitat for insects and small animals, mitigation of climate change and a pleasant environment for local residents to relax. And, perhaps most importantly, this former pasture area will be used to connect community residents with each other and with nature.
The main plan divides Rijnvliet into four small-scale neighborhoods, distinguished by different types of residential architecture. Ground-floor homes form the main type of housing, complemented by apartment complexes at different locations. All structures have access to green public spaces, either directly connected via ground floor access or indirectly through views. In this way residents will maintain close proximity to the adjacent environment.
The neighborhood's second tree planting day took place in spring 2020. Like last year, the tree planting involved local children in the planting of the edible landscape in their own neighborhood. Most of the housing in Rijnvliet Zuid (South) has been completed, and stream banks will be prepared for a spring 2021 tree planting.
Most of the housing components in Rijnvliet Midden (Middle) and Rijnvliet Noord (North) have already been completed, and other owner-occupied houses are under construction. The design of the Rijnvliet Oost (East) and West neighbourhoods is being finalised, with new plots allotted and outdoor spaces developed.
"Our city of Utrecht and all its neighborhoods is growing very fast, which means that we must build a lot of new houses," said alderman Klaas Verschuure, who is responsible for spatial development in and around Leidsche Rijn. "Our starting point is a healthy urban life for everyone. That principle comes into its own in Rijnvliet with a beautiful new 'edible' neighborhood where there is plenty of attention for nature and sustainability. A neighborhood to eat!"
The district of Leidsche Rijn, which Rijnvliet is part of, is separated from the rest of Utrecht by the Amsterdam-Rijnkanaal (Amsterdam-Rhine Canal) and the A2 highway, and for the past 20 years has been undergoing a regeneration to reflect its fast residential growth, as well as its interest in maintaining a progressive environmental ideology. The center of Leidsche Rijn now includes trendy shops, restaurants, cafés, and bars, and a new cinema as well as as educational and cultural facilities.
Maintenance of the edible plantings will be done by the local residents, supervised by a forester. New residents receive a cookbook, filled with recipes based on the local ingredients growing in their street (each street is named after the dominant plant growing in it), and accompanied by an educational note explaining the use of the plants.
Merwede
Residents and city planners of Utrecht have long understood that healthy, vibrant cities with lots of cars doesn't really mix well. The city first experimented with temporarily closing streets in its city center to vehicles in 1965. Today, a pedestrianized city center is the norm in many Dutch cities, and Utrecht is of course a very bicycle-friendly city. However, vehicles sometimes still dictate the design of many public spaces, even in Utrecht. The designers of Merwede, another newly proposed neighborhood, want to change that by giving its residents everything they need within walking distance!
Merwede is another example of Utrecht's ambition for sustainable and healthy urbanisation in the city. The new neighborhood includes 6.000 housing sites, various services and is characterized by high-quality greenery in public spaces, courtyards and top roofs.
This is made possible by its design as an unusally car-free neighborhood that truly prioritises pedestrians and bicyclists. Residents and visitors can make use of a large selection of shared cars, shared bicycles and good public transport. ​
According to BURA Urbanism (formerly known as Marco Broekman Architects) the design team for the project, Merwede's mission can be summarised in five themes:
Mobile Merwede: Allowing residents of Merwede to move freely without their own car.
Healthy and sustainable: Designing Merwede to contribute to a healthy planet with healthy people.
Lively city district: Offering Merwede the liveliness and amenities of the city.
Green domain: Creating a Merwede that combines highly urban, green and relaxation at the same time.
Coulisse city: Merwede is a highly urbanized neighbourhood with respect for the human scale.
​Different routes for slow traffic connect Merwede to the surrounding neighborhoods and center city Utrecht city. A central spine connects the different squares and local parks. Merwede includes a diversity of environments from quiet residential areas to busier meeting places and is the culmination of a series of city blocks that are composed of multiple buildings varying in both width and height. "Merwede contains over 200 buildings in total, creating a diverse roofscape and unique cityscape: a Coulisse City," said a BURA release. (Merriam-Webster's Coulisse is defined as "side scene of a stage"; or "the space between the side scenes"; or "painted pieces of scenery that give a stage set its dimension")
​The Urban Plan and image quality plan for Merwede is the result of intensive cooperation between eleven landowners, including the municipality of Utrecht. BURA has been involved in the planning process since 2016 as leader of the design-team and has been collaborating with different advisors.
Merwede will eventually be home to 12,000 people on a nearly 60-acre site in southwest Utrecht, with a focus on pedestrians and cyclists, and with public transportation that connects to all parts of the Netherlands. A fleet of shared cars and bicycles will be available to everyone living there. Instead of one (or multiple) cars per household, filling the streets with congestion and parking spaces, Merwede will have one car for every three household's.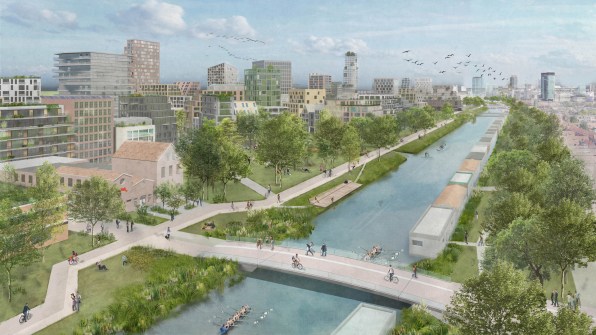 About one-third of Utrecht's 1.4 million people already bike to the city center daily, but Marco Broekman, the architect whose firm led the design for the urban plan, says that many in the Netherlands are still stuck on the idea of owning a row house with one or two cars out front, "but in new urban-oriented generations and groups, we see people with a different mindset towards cars, from owning to sharing," said Broekman.
"By having this car-free area, we can design spaces without the straightjacket [or] rules of the car, and thus focus on essentials for a high density area, which is the quality of public space, city on eye level, green, biodiversity, climate adaptation and meeting places for social interaction," Broekman adds. "With the car-free area and low parking norm, we want to set a standard for new high density neighborhoods, and want to set the right conditions so people can change their behavior; from a car dependent to more sustainable and healthy ways of transportation."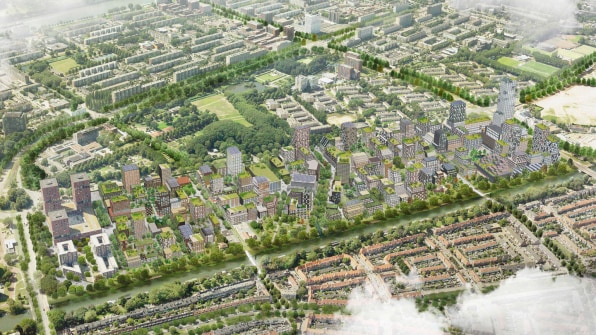 This design for Merwede will transform what is currently a business park full of offices into a complete neighborhood, with 6,000 dwellings in more than 200 buildings. The motto of the design, according BURA, Is "green, unless" — every building block will have a courtyard garden, and a new Merwedepark will provide a walking area along the canal. As Utrecht alderman Kees Diepeveen said, "It will be a city district with everything for daily provisions, like a supermarket, primary and secondary schools and medical services, all within walking distance. People can do their shopping, work and play sports in the neighborhood, and relax at a terrace on a city square."
That greenery will extend to the building roofs as well; greenery and solar panels on the roof are part of Merwede's sustainability efforts, and water from the nearby canal will be used in "the largest underground heat and storage facility in the Netherlands," said Diepeveen, to heat and cool the district. BURA says it will be "almost energy-neutral," and specialists are researching how the district can become circular as well.
Utrecht is the fourth largest city in the Netherlands, home to the country's largest university, and is a central hub for transportation, and it is only going to get more crowded. It's one of the fastest-growing cities in the country, and local officials expect to have 100,000 new residents by 2040, for a total population of 450,000. "This neighborhood design is important," said Diepeveen, meaning Merwede. "It will give people a chance to live within the city, within bicycle distance of its amenities, instead of building new suburbs on the outskirts."
More than just this one neighborhood needs to adapt, though. "Until Utrecht is a real cycling city, driving cars will still be popular," he said. "A big change in the mind-set of inhabitants is needed to change a city into a car-free city as a whole or at least a city where driving cars is not so common anymore. The new city district of Merwede is a good start for a shift from cars to cycling and walking and from private ownership to sharing."
The Merwede design teams are now taking public comments from residents. Many residents are excited about the proposal, but others are concerned that the number of cyclists living there will slow traffic on the bridges, and too many new routes will be needed to connect it to other districts. "If all goes according to plan," Diepeveen said, "the first residents can move in in 2024."