Ron Bernthal
France opened its borders to U.S. citizens in early June, 2021, and by the end of June most Covid restrictions were dropped (see graphic at bottom of page). The information below is from the France Tourism Development Agency, also known as Atout France, the organization responsible for promoting France as a tourism destination. For information about visiting France go to Atout France.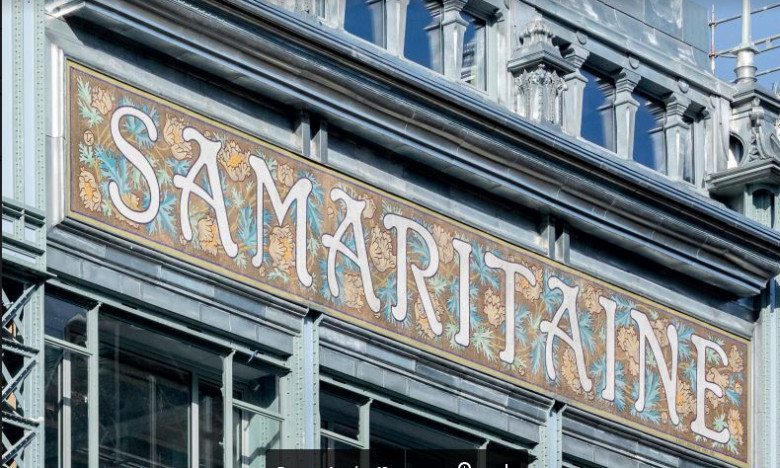 Samaritaine | Inaugurated June 23, 2021
Another development worth celebrating by Parisians and visitors alike is the opening of what can be called the "new" Samaritaine. It was founded in 1870 by Ernest Cognacq and his wife Marie-Louise Jaÿ, with a first boutique at the Pont-Neuf. They expanded to include the now landmarked Art Nouveau and Art Deco buildings that made the department store so iconic. This shopping & family destination of Paris was purchased in 2001 by luxury powerhouse LVMH. Closed in 2005, the new iteration, overseen by the award winning SANAA Agency, artfully melds contemporary architecture and restoration of the historic buildings and includes a socially diverse component—offices, subsidized housing and a child care center in the ancillary buildings that stretch two blocks between the Quai du Louvre and the Rue de Rivoli. The three main buildings house a department store, food courts and restaurants, and in the Art Deco building facing the Seine River a 72-room Cheval Blanc hote–which is scheduled to open September 7, 2021. An undertaking that would have made its founders proud. For more click here
Hôtel de la Marine | Inaugurated June 12, 2021
Having postponed its opening to the public from last July, this June,,the Hotel de la Marine is now finally open to the public. It is located on the Place de la Concorde right across the rue Royale from the legendary Hotel de Crillon. The former headquarters of the French Navy from the French Revolution through 2015, the 18th century palace is being restored to showcase the royal and state's period furniture, tapestries and decorative objects to be displayed in the palace's ceremonial ball rooms.
The Seine on Show—Cheval Blanc Paris opens on September 7, 2021
Paris, June 21, 2021 — Overlooking the Seine, in the heart of the capital, Cheval Blanc Paris is opening the doors of its urban haven. Contemporary, it embodies the French art de vivre: epicurean pleasures, hospitality for family and friends.
Bathed in light, from intimate hideaways to big city wonders: 72 accommodations — 26 rooms, 46 suites — and 4 restaurants.
Cheval Blanc Paris comes to life thanks to passionate visionaries, artisans and artists. Remodeled by architect Edouard François, the listed building's décor was reimagined by architect Peter Marino in the style of a Parisian residence, with the help of exceptionally skilled artists and craftsmen. Along with their brigade, Arnaud Donckele, Chef of the gastronomic restaurant, and Maxime Frédéric, Pastry Chef, invite diners to embark on a journey of flavors.
The Dior Spa Cheval Blanc Paris boasts 6 treatment rooms for bespoke rituals, a gently rippling swimming pool and state-of-the-art exercise facilities.
Not forgetting Le Carrousel, an area dedicated to children, celebrating the family spirit that is so dear to the Cheval Blanc Maisons.
Cheval Blanc enjoys striking panoramic views: the Seine, mesmerizing and majestic, is everywhere, its reflection lapping over the terraces and the all-bay-window façade. A haven for all occasions, with attention to every detail provided by women and men of character: Cheval Blanc Paris is more than just a new address. It is a destination.
Bourse de Commerce |Collection Pinault | Inaugurated May 22, 2021
This new contemporary art museum first scheduled to open this January has finally made it's entrance on the Paris culture scene this May. Designed by architect Tadao Ando, it is housed in the former Commodity Exchange, the Bourse de Commerce |Collection Pinault in the heart of the city. The dome topped building with 3000 square meters of exhibition spaces will host the 10,000-piece Pinault art collection.
The opening exhibition is called "Ouverture" – opening in French and features works from 32 contemporary artists.
Musée Méliès | Inaugurated May 19, 2021
Film buffs will be happy to hear that the Musée Méliès (French language only) at the Cinematheque Francaise in Bercy has opened its doors. Named for the pioneer film director and illusionist Georges Melies, the museum will retrace the history of cinema including such themes as the origins of visual effects to today's most stunning special effects.
Manufacture de la Mode de Chanel | 2021
Paris will also welcome to its immediate suburbs an innovative project, The Manufacture de la Mode de Chanel, Northeast of Paris at the Porte d'Aubervilliers. Designed by architect Rudi Ricotti, the building will welcome all luxury crafts in one place, which means workshops of jewelers, bootmakers, embroiderers, glove makers and luxury ready-to-wear brands.
French Regions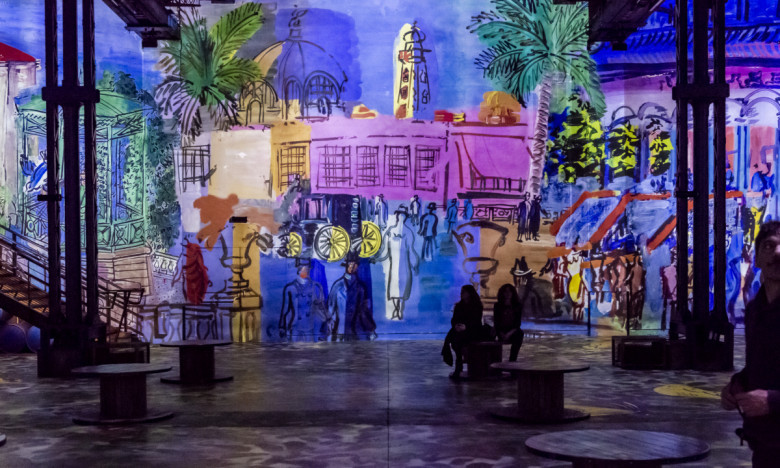 Bordeaux | Bassin de Lumières | Re-opened May 19, 2021
You will be happy to hear that Bordeaux's Bassins de Lumières has just re-opened, a grand digital and immersive exhibition space housed in 4 huge basins of the former WWII submarine base. Its two inaugural are still ongoing: « Gustav Klimt, gold and colour » and « Paul Klee, painting music" running concurrently with "Monet, Renoir, Chagall Journeys Around the Mediterranean" & and on the same theme an exhibit of Nice native "Yves Klein: Infinite Blue."The neighboring Cité du Vin and recently opened Musée Mer Marine are all a 15mn tram ride from the city's central Place de la Bourse.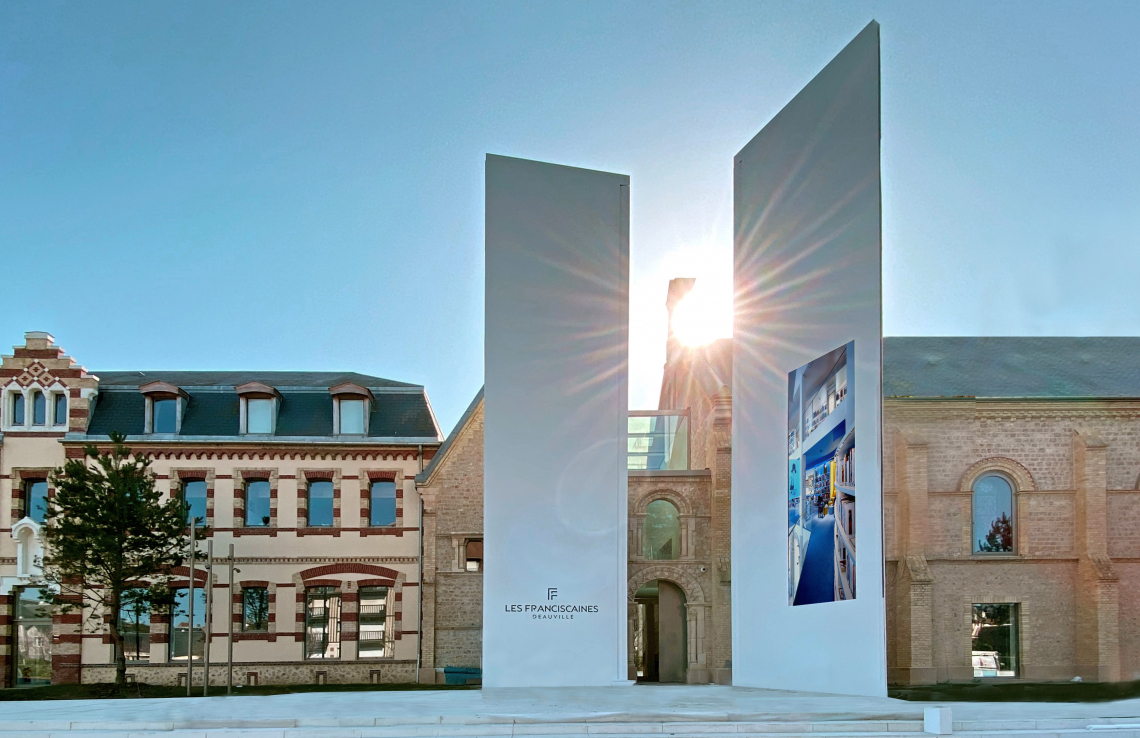 Deauville | Les Franciscaines | Inaugurated May 12. 2021
After a relatively brief postponement, a new cultural venue has recently opened in the chic seaside resort of Deauville in Normandy. Known for its horse racing, photography and the American Film Festival, Deauville will also be known for Les Franciscaines, an innovative cultural center featuring a museum, media center and auditorium. It will be housed in former buildings used by Franciscan nuns since 1876. Les Franciscaines' architectural rebirth will meld the historic building with ultra-contemporary elements and interiors. The museum's collection will include 546 art works donated at his death by figurative painter André Hambourg—all of which were inspired by Deauville's beautiful coastline known as the Cote Fleurie. An additional 100 paintings from the artist's personal collection will be permanently exhibited including works from his contemporaries Marie Laurencin, Foujita, Van Dongen, and Derain. The city has also embarked on an aggressive acquisitions program to grow its collection with works by Eugène Boudin, Paul Signac, André Lhôte, Moïse Kissling, Raoul Dufy and others.
Fontevraud | Modern Art Museum of Fontevraud | Inaugurated May 19, 2021
The 12th century Fontevraud Abbey near Chinon and Saumur in the Atlantic Loire Valley has just welcomed the remarkable, new Modern Art Museum of Fontevraud, which includes the private collection of Martine and Léon Cligman. These 900 works from the 19th and 20th centuries include paintings by Toulouse-Lautrec, Corot, Degas, Delacroix and Soutine, and sculptures by Rodin and Germaine Richier. They will be displayed in the Fannerie, the former stables of the mother abbesses.
Airlines' First East Coast route in the U.S. between Newark Liberty International Airport (EWR) and Paris Orly Airport (ORY) launches on July 15, 2021
New York – June 30, 2021 – Starting July 15, 2021, French bee will launch its first East Coast route in the U.S. between Newark Liberty International Airport (EWR) and Paris Orly Airport (ORY), making French bee the only and most economical non-stop leisure carrier from New York to Paris.
Bringing the global center for art, fashion, gastronomy and culture closer to tri-state residents, the airline will operate three weekly direct flights from Newark Liberty International Airport to Paris-Orly International Airport, increasing to four direct flights weekly in August.
● Starting Price: Fares start at $139 one-way from New York to Paris ● Outbound Flight: Operating on Mondays, Thursdays, Saturdays and Sundays Departure from EWR at 10:55pm with an arrival at ORY the following day at 12:20pm ● Return: Departure from ORY at 6:45pm for an arrival at EWR at 9pm
Air France is first SkyTeam Alliance member to provide transatlantic service at DEN
DENVER – July 2, 2021 – Today, Air France became DEN's 24th airline and 11th foreign flag carrier with the start of nonstop service to Paris-Charles De Gaulle (CDG) from Denver International Airport (DEN). A Boeing 787-9 aircraft filled with excited passengers departed DEN for the inaugural flight.
"Denver's international reach continues to grow as Air France's nonstop flight to Paris marks the 15th international destination to be added at DEN in the last ten years," said Denver Mayor Michael B. Hancock. "Our ability to attract a new international airline during a pandemic, speaks to the strength of our City and our airport and we are excited to welcome Air France. This flight will not only help connect passengers and businesses to Europe and beyond, but it is expected to create up to 150 new jobs and generate up to $16.5 million for Colorado's economy."
Flights are scheduled to operate three days per week through Oct. 29. Air France will join SkyTeam Alliance members Delta and Aeromexico at DEN, marking the first time a SkyTeam Alliance carrier will connect Denver nonstop with Europe.
"The launch of Air France service from Denver, our 12th destination in the U.S., reaffirms our belief that people are eager to travel again and want to do so with an airline committed to the highest standards of safety and service," said Stéphane Ormand, Vice President and General Manager, USA for Air France KLM. "We look forward to connecting Denver to our global network via Paris- Charles de Gaulle, offering passengers a gateway to close to 200 destinations this summer. We hope travel restrictions in U.S. will also be lifted soon to be able to give tourists from Europe and beyond the opportunity to experience and explore Denver and its surrounding areas. We believe in the potential of this route because of Denver's dynamic economy and outstanding outdoor recreation which appeals to tourists from around the world."
Recently, the U.S. was added to the EU's "green list," which allows fully vaccinated American travelers to enter without submitting a negative COVID-19 PCR test or going into quarantine. Non-vaccinated American travelers are required to submit a negative COVID-19 PCR test with result taken within 72 hours of departure and they do not have to quarantine.
"Prior to the pandemic, Paris was Denver's second-largest market in Europe after London and we have no doubt, that as more travel restrictions are lifted, will see an influx of Denverites exploring Paris using this convenient nonstop flight," said DEN CEO Kim Day. "We also know that travelers from France love to visit our National Parks and outdoor recreation and we are excited to share our beautiful city and region with the world once our borders fully open to European travelers."
For additional information on Covid regulations concerning travel to France go to the U.S. Embassy and Consultates in France Covid-19 Website.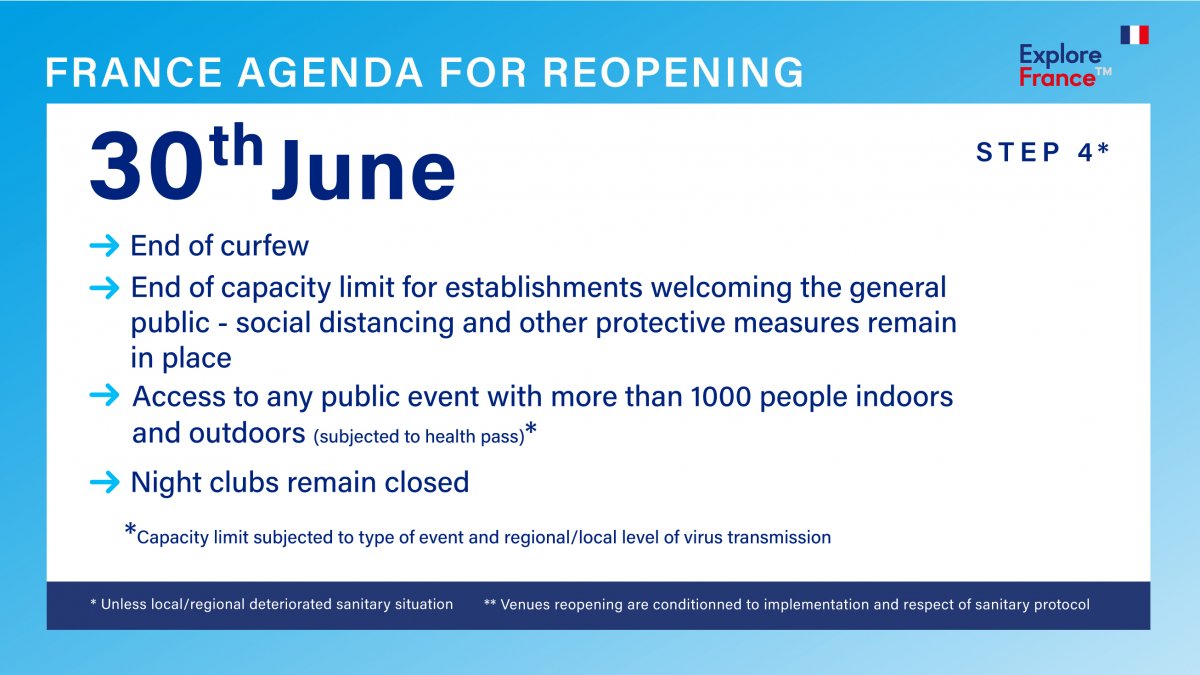 Banner photo: By Patafisik – Own work, CC BY-SA 4.0, https://commons.wikimedia.org/w/index.php?curid=85722011