by Ron Bernthal
Schoonschip, a unique floating residential community project in the Buiksloterham district of Amsterdam, is managing to catch the attention of local residents, and many EU residents as well, in a city where canals and houseboats are as common as apartment buildings in New York City. So why the large interest?
Although the project actually began infrastructure and boat construction in 2011, it's design, location and philosophy have touched a nerve with many folks who really want to live there, and many more who love the idea of a floating community where every resident is concerned about sustainability, climate change, and sharing their public space with like-minded neighbors.
This group of individuals, the initiators of Schoonschip, commissioned the Dutch architectural firm Space&Matter to design a smart urban plan based on their own private and shared dreams about living an almost perfect lifestyle.
Each resident designed their own floating house, together with an architect of their choice, and therefore the neighborhood has a unique appearance with great diversity of materials, styles and building types. Along with a team of multi-disciplinary consultants and residents, Space&Matter designed the urban plan, which includes a smart jetty connecting each house within the neighborhood, and with the necessary technical infrastructure they need.
Schoonschip consists of 30 water plots. About half the boats are shared by two families, creating 46 unique water dwellings for more than 100 residents. In addition to the overall urban plan, Space&Matter designed two of the floating houses, the last of which will be completed in late 2021.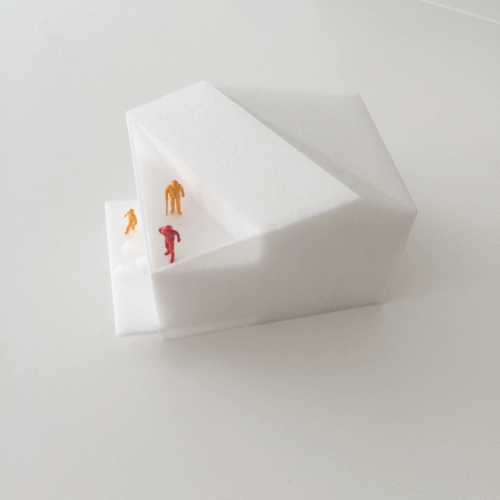 "'Seventy percent of the world is covered in water, and the good thing is that we can easily live on it! Since urban areas struggle with high density, we should make better use of the space on the water. With Schoonschip we want to set the example, and show how living on water can be a great and better alternative for people and our planet.'
Schoonschip is built on a circular community model, which rethinks how we organise our cities, both socially and spatially, to tackle the systemic roots of climate change and create a connected community with strong social values. With decentralised and renewable solutions to water, energy and waste systems, Schoonschip includes solar panels connected to a smart-grid where residents can trade energy, submersed heat exchangers for heating and cooling, and water treatment technologies used to (re)collect energy and nutrients from wastewater.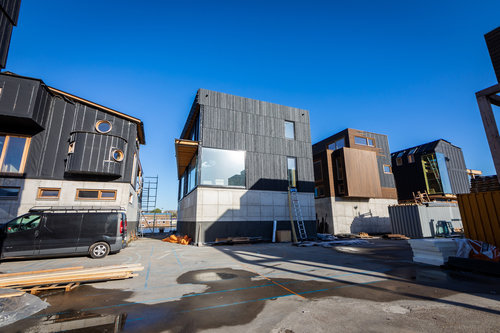 Above photos © Isabel Nabuurs
Schoonschip is not only sustainable in an ecological sense, but also socially: the residents work closely together to realize and improve their residential area and coordinate their plans. They have agreed to give up their personal cars and instead share electric cars together. The 'smart jetty' that connects all houses serves as a pavement and meeting place for the neighbors. Schoonschip demonstrates how circular neighborhoods can be created by residents, taking responsibility of their resource consumption and waste, and working together to achieve local loop closure.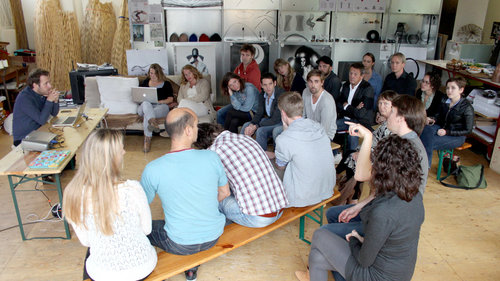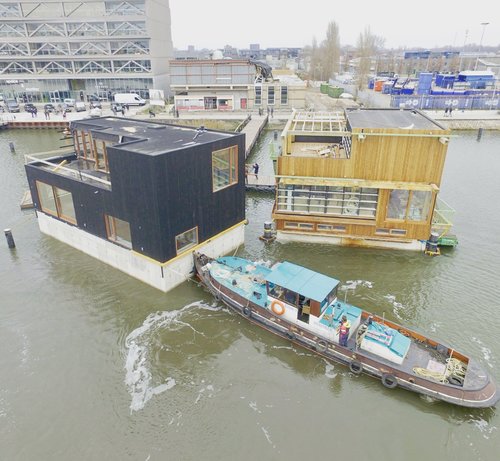 Living on water offers a great solution for places where climate change and a rise in sea levels are a looming hazard, as in Amsterdam and other coastal cities. Housing on water not only protects people against nature, it also protects nature itself. Housing on water can be completely footloose, reversible and has very little impact on nature, especially when combined with smart energy and water-sanitation systems like those deployed within this project. Building on water has other advantages too: houses can be manufactured elsewhere and towed towards their destination, enabling residents to avoid construction noise.
On a small scale, Schoonschip is ready to explore innovative solutions to some of the global challenges that come with the changing climate, including water scarcity and drought, extreme rainfall and flooding, and rising sea levels. It applies simple yet effective innovations which offer not only environmental but social and economic benefits as well. The Schoonschip project has been hailed internationally as a prototype for other floating urban developments, and hopefully this new, floating community will help urban planners to rethink where and how are cities can be designed.
Schoonschip is open source. VvE Schoonschip aspires to a role as frontrunner and pioneer: a breeding ground for the latest sustainable techniques and solutions. To achieve this, the association cooperates with innovative companies and shares its experiences. "We find it enjoyable and necessary to share the sustainable and social mindset with others and to advance knowledge and skills," say Schoonschip organizers. "We like to learn from others and everyone is welcome to learn from us. By jointly formulating ambitions and frameworks and offering freedom to residents and architects within those frameworks, a very diverse, creative residential district is created."
For additional information link here: https//schoonschipamsterdam.org